I'm currently starting week four of my Zombies, Run! 5K trainer. I really hate running with a passion- I'll never understand why people get such joy out of running great distances for no reason (aside from health reasons, I guess).
So what is 'Zombies, Run!'? It's an android/Apple store app created by Six to Start.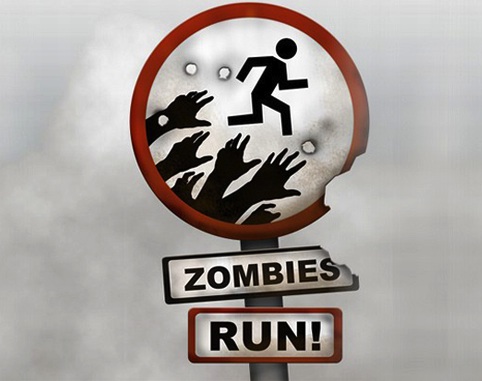 It's pretty ingenious actually: instead of just telling you when to run or walk, this app sets up a detailed story line for you to follow: You are a new arrival to the Abel township after your plane crashes. In order to get a productive member of this mid-zombie apocalyptic society, you've got to earn your keep. Several of the runners (i.e. those who run outside of Abel to collect supplies that the township may need) are injured or have been killed off by zombs. You're to replace Runner Five and Abel begins training you in order to do so.
As someone who hasn't stuck to any 5K program before (and I've tried many) I'm pretty excited I've made it to week four. I'm about half way through the program I think and I'm running/walking an average of 5K three to five times a week. I don't really know if I'm getting healthier, but I am having fun, which is rare. I'm hoping that I can register for Run or Dye or The Electric Run in November, I really want to say I have a 5K under my belt. My eventual goal is to do an obstacle race like Warrior Dash (or even Tough Mudder someday!)
I think it was shot down 2-3 times by other companies for being too graphic. In fact, I'm sure that blogspot will delete this for being too graphic. We're hoping it brings more traffic to
M0cojute.com
. I'm not sure many folks realize M0co's made a website now. If you run into me or M0co in the near future, please remind us to give you some cards to pass out for us! It would mean a lot to the both of us.
Vacation went extremely well- lots of sun and relaxation. We even managed to squeeze in a photoshoot. Some of the photos came out pretty well. Here's my favorite:
I absolutely adored the lighting done for this. It was worth getting sand in places where it didn't belong.